Flashnewscorner.net – Mom from the Kardashian Family, Kris Jenner becoming a  victim of kidnapping. This new already being confirm by her from a video that she upload on her Instagram account. How can a kidnapping victim can upload a video ? And what more unbelievable is the one who kidnapping her is two young children !
Okay everybody can be calm now, in here there kidnapping is not like any of us think about. Kris Jenner being kidnap by two popular young children which is the twin Stauffer, Mila and Emma that well known on social media.
This think happen when this two young cute and adorable come to Kris Jenner house. They are dressing like a princess from a kingdom, and look so cute. with a handbag on their hand, They come for the purpose of Trick and Treat.
As we know Trick and Treat is a western culture in where this think will be done by all people in there when Halloween time. Done every year by every people in there with Trick as being cheated and treat as a candy. So in other word for you not getting trick you need to treat them a candy or anything else that sweet.
So Mila and Emma come for the first time to Kris House, looking at her big house, both Stauffer hoping that get something big. And for sure, when they coming to that house, they receive a big chocolate. That make them greedy and try to visit Kris house for second time with another costume. and for the second time they get a big lollipop from Kris.
After the second time both Stauffer still want more from this house, but they are out of costume, so they decided to visit that house just by showing their real person. And when the door open, Kris can recognize both of them. " Oh both of you are little Mila and Emma right ? Get this one"  tell Kris with also giving them a big bowl of sweet things, while carrying two puppies with her.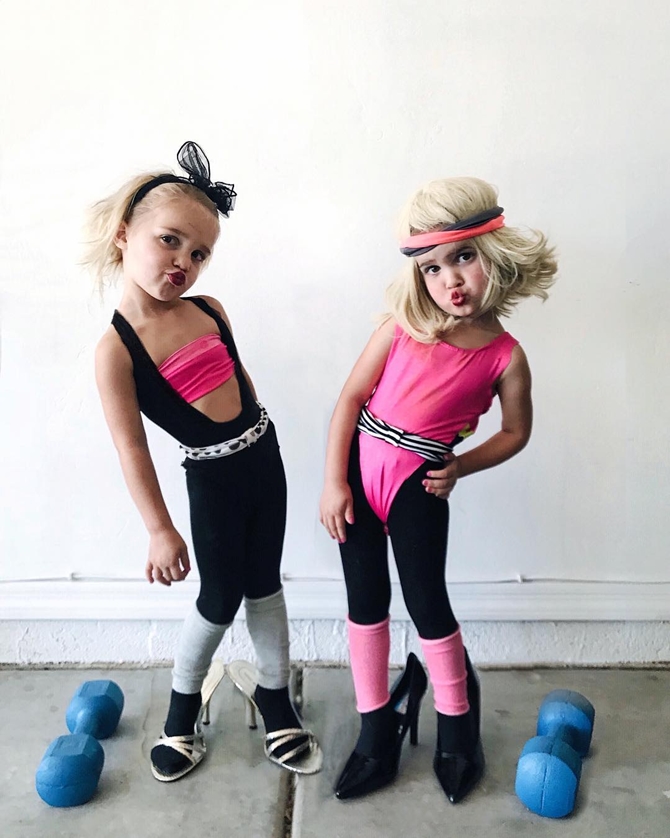 But what happen is Mila not want that candy but seh prefer to get her puppy. "No, i want one of your puppy!" Scream Mila while getting the puppy from Kris hand and run away. Because of that Kris try to call the police and tell them that 2 young girl just kidnap her puppy and now run to the North West.
Hearing the word North West make the police confuse because as they know that North West is the name of Kris grandchild. So the police ask Kris " What is this two young girl do to your grandchild ?" ask the police. " Not my grandchild, But North West direction!"
Actually, this video is make as the video promotion for the upcoming Halloween that will be held by Stauffer family called Mila and Emma's halloween Pumpkin Patch. From this event Stauffer family will invite all the children to come and celebrate Halloween without need to confuse about having a costume or not, just be yourself and you will get treat !
This event will be held a month full from 1 until 31 October on Culver City California. So interesting right ?