Flashnewscorner.net – Taylor Swift as far as we know is one of the superstar that do not want to talk about politics on her country. Even already getting so many critics on why she never want to confess her politic choose, The ex country singer that now already become the pop singer just keep silent about this thing. However, This time look like Taylor Swift want to change that.
On her new Instagram posting just now, Taylor Swift confess her chosen senate on the election that will be held on this November in United States. Taylor Swift that come from Tennessee talk about two candidates that she want to become the senate on her birth town. Moreover, The singer of Look What You Made Me Do also inviting all her fans to vote their own favorite candidate.
On choosing the senate, The value that Taylor Swift concern the most is about Human Rights. So she tell that she will give her voice to the want that do not do discrimination on the ethnic, gender and LGBTQ.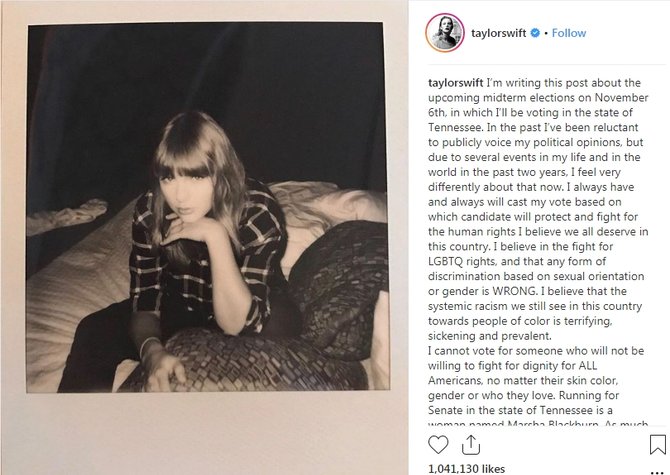 " I am writing this post about the upcoming midterm election on November 6th. i will be voting in the state of Tennessee. In the past i have been reluctant to publicly voice my political opinion, But due to several events in my life and in the world in the past two years, I feel very differently about that now. I always have and always will cast my vote based on the human rights. I believe in the fight for LGBTQ rights and that any form of discrimination based on sexual orientation or gender is WRONG. I believe that the systematic racism we still see in this country towards people of color is terrifying, sickening and prevalent. I cannot vote for some one who will not be willing to fight for dignity for ALL American no matter their skin color, gender and who they love." write Taylor Swift.
So based on that Taylor Swift write that she will choose Phil Bredessen that is the candidate from democrats. " I will vote for Phil Bredesen as the Senate and Jim Copper as the House of Representative," Tell her.
Let hope that our world will be free from all kind of discrimination as what Taylor Swift and most of us want it for.